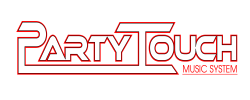 Jukebox Sales and Karaoke Machines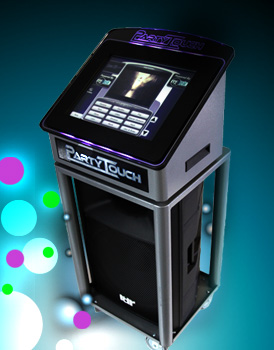 This is the future of Party Hire Digital Karaoke Jukeboxes in Australia.
It is small and compact and now comes to you with over 3000 Video Tracks and 600 karaoke Tracks in your Start-up package price. !

PartyTouch Jukebox Music Systems combine playback technology with a large music library and a built-in sound system. The simple interface, inclusion of music video and karaoke in addition to audio tracks, and the ability of partygoers to select their own music make this compact, portable unit a hit wherever it goes.

PartyTouch is the perfect addition to any party hire fleet, with an above-average return on investment and a worry-free operating procedure. Just roll it in and collect the hire fee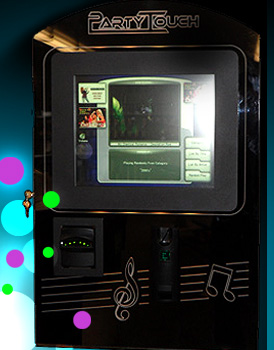 PartyTouch in a coin-operated jukebox model with the same easy-to-use interface as our party-hire unit, it can also generate pay-for-play and advertising revenue.

There's no need to pay for expensive karaoke hosts. Just let the customers pay you to select their own sing-along tracks!

It features a colour-changing "attract" interface and video outputs so that you can display music video, karaoke and advertising on a larger LCD display or karaoke monitor. Hook it up to a Plasma TV in your Venue, and watch the profits take off! It even has a built-in amplifier, just connect your speakers and the system is ready to rock!

Operators are able to service remote locations without going there and venues can purchase PartyTouch jukeboxes directly to generate their own jukebox revenue.


All digital – No CDs or karaoke song books
Over 3,000 songs/music videos PLUS over 6,0 karaoke tracks included
Constantly updated library including the best new music
All the most popular classics from every era – 50's, 60's, 70's, 80's, 90's, 2000's, 2010's
The biggest hits from the major record labels
Fully licensed music with sensational sound and video quality
400 watt sound system included – 15" bass speaker and high fidelity horn
17" LCD touchscreen for EZ song selection by your guests
Simple operating interface
Two built-in microphones for sing-alongs
Compact all-in-one design so it will fit practically anywhere
Ports to connect an iPod, secondary sound system, or an additional monitor