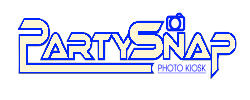 Photo Booth Sales
Another great product from the manufacturer of the world class PartyTouch Jukebox is the PartySnap Photo Booth.
Unlike Traditional Photo Booths that are hard to operate and require an Attendant, the "Party Snap" system, in keeping with all our fantastic products, is completely D.I.Y. That's right, as the "Owner Operator" you can deliver and set-up the system, show your client how easy it is to Operate, and your clients guests then take care of the night themselves.
The added bonus is that you can tell your customers that the "PartySnap" system, unlike the others, is an "All Night" Hire & is at a Fraction of the price of an attended Photo Booth.
PartySnap Features:
1. Permanently online for your clients guests to upload their photos to Facebook and even Email to their friends & family!
2. The Only Photobooth System with a "Permanent" Greenscreen facility so that the Party Guests can put themselves into 100's of fun (and sometimes Hilarious) background images!
3. A "Hollywood" type feel with a Display Greenscreen stand & Red Belted Bollard!
4. The Latest Dye-sub professional printer with a 700 shot paper roll!
5. Small Form Embedded PC & Zytronic Touch Screen, these 2 items are the most reliable units on the market and that is why your "PartySnap" will be as reliable as your "PartyTouch Jukes"!
6. Made in Melbourne WE are the Manufacturer! You are always dealing with the person who made it! Gives you great peace of mind that you are buying something "Built to Last"
7. There are many more features, too numerous to mention here so give us a call to find out how "PartySnap" and all its features are going to revolutionise your cashflow!